The Long Awaited Furious 7 Movie Premiere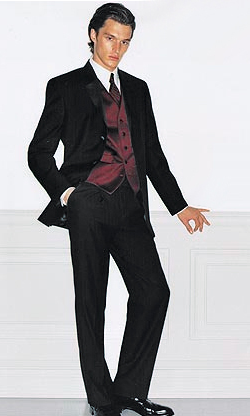 Furious 7 is the seventh movie in the Fast and the Furious series.  It picks up the story where The Fast and the Furious; Tokyo Drift (2006) ended (the four movies released between those took place between the original 2001 The Fast and the Furious and Tokyo Drift).  While some of the previous films have featured other characters, Furious 7 returns to follow Dominic Toretto as played by Vin Diesel.  Also returning from previous entries in the series are Michelle Rodriguez, Jordana Brewster, Lucas Black, Tyrese Gibson, Eva Mendes, Ludacris, and, in his final film role, Paul Walker.
Surprise Screening
Calvin Klein Barcelona Tuxedo[/caption] While the film's stars are set to walk the red carpet on April 1 in LA for the film's official premiere, producer Neal Moritz managed to get the film into the annual South By Southwest (SXSW) event at the last minute.  While most of the actors were not able to attend, Tyrese Gibson was there.  He was joined by Moritz, Chris Morgan (screenwriter), and James Wan (director) plus others of the movie's creative team. Gibson took to the stage wearing all black, including a black leather jacket.  While many stars would have gone with something more formal like a designer Calvin Klein Tuxedo, his more relaxed appearance was perfect for the festival.  In fact, the Furious 7 crew in attendance were dressed much like the fans, and many of them would have been difficult to pick out from the others in attendance at SXSW.  
Fashion from the Film
That doesn't mean they aren't dressed to the nines in the movie.  While most people would think that a film about racing wouldn't feature fancy clothing, the crew does trade in their everyday apparel for some gorgeous gowns and stylist fitted tuxedos in several scenes.
White Laydown Collar Tuxedo Shirt with Fly Front
Vin Diesel, for example, wears a nice white laydown collar shirt and black suit jacket during a scene with co-star Rhoda Rousey.  While Diesel's lack of tie makes his outfit a little more casual, Rousey wows in a sleeveless off-white dress.  Her intricate hairstyle and large earrings definitely tell the audience that her character knows how to dress. The scenes that were filmed in Abu Dhabi contain the most high fashion.  While undercover, Michelle Rodriguez dons a gorgeous red gown with a long train.  This sleeveless number makes her really stand out next to the rest of the cast, who are mostly dressed in darker colors. Nathalie Emmanuel, who appears in many of those scenes with Rodriguez, goes will a long black dress.  It's simpler in design and it lacks a train, but she still looks great.  Both women wore heels that matched their dresses. [caption id="attachment_2989" align="alignleft" width="215"]
Tyrese also stands out in this scene thanks to his red bowtie, red cummerbund, and classic white dinner jacket.  He pairs these with a pair of standard black pants and black shoes. The movie is set to open in box offices on April 3rd following its red carpet premiere on the 1st.  Many predict that the film will break box office records for a movie opening in April, and if the reaction of the SXSW crowd is any indication, it has a very good chance of doing so.