5 Men Whose Fashions We Loved in 2013
[caption id="" align="alignleft" width="194"]
Leo shows off his Gatsby charm with a bow tie.[/caption] Christmas has come and gone. Soon our beloved 2013 will come to a close and January will introduce a new year of formal wear, manly elegance, and a dash of debonair flair. Before the ball drops, we're going through some of the greatest tuxedo and men's formal wear trends of 2013 and the stunning men who showed them off.
Vintage Flair
One of the most anticipated films of 2013 proved to be none other than
The Great Gatsby
. Based off of F. Scott Fitzgerald's sensational classic piece of literature, Gatsby brought back a golden era of flawless style and a flair for parties that could never be matched. Leonardo DiCaprio marvelously portrayed the daring and dashing Jay Gatsby, channeling a sea of vintage formal wear. His iconic style made 2013 the year of the
bow tie
! [caption id="" align="aligncenter" width="293"]
Brody: Best Dressed at Cannes.[/caption]
Twisted Tradition
Traditional formal wear calls for a black and white ensemble, typically a
black tuxedo
and a
white tuxedo shirt
. This year celebrities shook it up across the red carpet to spin traditional style in a new way. Wearing a white tuxedo jacket allowed for a fun and fresh take on a classic contrast. A white or cream tuxedo jacket or dinner jacket allowed men to show off their accessories with ease.
Adrien Brody
's black accents popped magnificently on his jacket, which made it easy for him to steal the show at this years Cannes Film Festival. [caption id="" align="aligncenter" width="263"]
Dapper Darren brings slim fit to center stage.[/caption]
Slim Fit
Darren Criss is a showstopper when it comes to men's formal wear. He brings his A-game to every event he attends. Dapper Darren is most known for displaying one of the greatest tuxedo trends of 2013, the slim fit tuxedo. By wearing a tuxedo that is properly fitted to his body, he is able to show off his fantastic physique in an exceptionally sophisticated and stylish manner. Darren knows better than anyone that a tailored fit can change the look of any formal wear ensemble from drab to dashing. [caption id="" align="aligncenter" width="294"]
JGL rocks color like no other.[/caption]
Pop of Color
This year proved to be a splash of something spectacular. Although tradition is often best, the unexpected is always welcome. Adding a pop of color to your formal wear is a great way to modernize a classic look.
Joseph Gordon-Levitt
proved to be a master at this, bringing his charm and charisma to his colorful tuxedos. Maroon and plum seemed to work best on his build. Channel your inner JGL and rock a
colored tuxedo
to your next formal wear event of the new year. [caption id="" align="aligncenter" width="200"]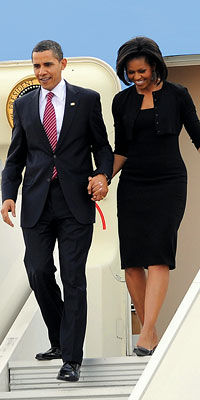 The Obamas show off their classic American style.[/caption]
American Classic
Last, but certainly not least, is the call for tradition. Our 44th President,
Barack Obama
, is a wonderful example of traditional American formal wear. Casual but classic, the POTUS brings USA flair to every occasion. With the ever so sophisticated and stylish First Lady Michelle Obama by his side, he can do no wrong in formal wear. His trademark blue or red
necktie
completes his looks, adding a bold pop of American elegance to his excellent sense of style.