Formal Wear Tips from President Obama
On Thursday, July 4, 2013, President Barack Obama and First Lady Michelle Obama hosted over 1, 200 members of the military and their families during an Independence Day spectacular on the South Lawn of the White House. The American celebration of the 237th anniversary of the United State's independence from the British Empire was a fun, informal affair. Tables were covered in red and blue tablecloth and paired with white chairs, as happy families gathered on the lawn. The President and First Lady entered dressed in casual attire. Keeping it low-key in khaki pants and a light red shirt, President Obama proved once again that serious style is best shown off in the simplest of ways. Here, we take a look at the POTUS's daily formal wear style that is always both classic and comfortable.
  [caption id="attachment_2276" align="aligncenter" width="222"]
The POSTUS & FLOTUS keep things crisp, classic, and casual.[/caption] Since his first inauguration in January of 2009, the Commander-in-Chief has kept things classy within the White House. On his first full day in the White House, the President was photographed without a jacket. The Capitol was flustered, considering his predecessor George W. Bush required a coat and tie within the Oval Office at all times. President Obama has kept this modest take on business attire throughout his entire career. Gents, take a que from the head of state, and do the same with your formal wear. [caption id="" align="aligncenter" width="480"]
Even in the Oval Office, President Obama rocks a simple and stunning style.[/caption] The president is known for appreciating a fine tailoring. He keeps his attire fitted to flatter and enhance his slim silhouette, most notability a
two-button jacket of wool blend
. Consider doing the same - try wearing a
slim fit tuxedo
to your next formal wear event. With a proper fit, your tuxedo will show off your physique in a stunning manner. Do as the president does, and don't go for flashy colors and obnoxious prints. Instead, stick to the basics. Wear your tuxedos in an unwavering black or midnight blue to make a lasting impression of supreme strength and confidence. [caption id="" align="aligncenter" width="235"]
Take your wardrobe to the presidential level.[/caption] When looking to add accessories, do not go overboard. The 44th president of the United States never does. The President is constantly photographed wearing a chic blue or red tie, leaving bold
bow ties
for exceptionally 
presidential formal wear events
. Stick to the regular, classic tie for a kick back to the simplistic stylings of the every day man. You'll look clean and crisp as a result. Stick to strong colors and stray from more ostentatious patterns and hues. [caption id="" align="aligncenter" width="200"]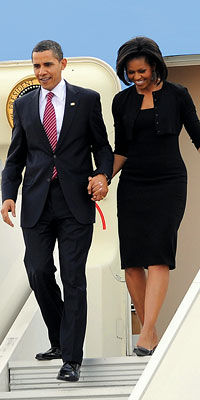 Obama's style is simple, but sophisticated.[/caption] Your style, much like that of the president, should exude elegance and confidence. Take these tips to your wardrobe when deciding how to style yourself for your next formal wear occasional. Be like Obama, and stay simple while keeping the sophistication high. Bring a stamp of presidential appeal to your looks, and you'll appear as successful and strong as President Obama.